LASER CUTTING
Laser cutting is the high quality of the edge of the cut material. It creates ready components that do not require further finishing. Even the most complex shapes are not a challenge for a laser cutting.
LASER CUTTING – UNIQUE OFFER
quick response to the inquiry (max 1 business day)
high quality of services
low prices
promptness
large stock of steel and aluminum
LASER CUTTING TECHNOLOGY
Laser cutting allows creating 100% repetitive elements of any shape, while maintaining the highest quality. We can guarantee any number of identical copies.
The maximum power of our laser closes at 7000W (the only device in Poland). It allows us to cut stainless steel up to 30mm thick. The maximum working area of ​​the laser cutter is 6000 x 2500 mm
The most advanced software and digital control enable us to achieve 0.1 mm of accuracy. Laser cutting reduces the time needed to prepare production and the service itself (cutting process optimization), compared to other cutting technologies.
We have CoolLine – the latest system that increases the quality of laser cutting. It allows us to cut very small holes in thick sheets.
We effectively avoid corrosion. BTH Import Stal (as pioneers in Poland again) produces stainless and acid-resistant steel parts on custom-adapted tables made of 1.4301 steel.
The 5kW TruDisk disk resonator used in laser cutting allows the processing of a wide range of materials, like copper, brass, titanium to other nickel alloys.
LASER CUTTING – FAST DEADLINES, LOWEST PRICES
We offer steel (DUPLEX, SUPER DUPLEX, URANUS) and aluminum for sale – straight from the warehouse. We also provide the highest quality of steel from EU distributors at a market price. It allows us to finalize laser cutting orders quickly, always on time and with the lowest on the market price of the ready part.
Available stainless steel grades:
1.4301
1.4404
1.4571
1.4828
1.4016
1.4841
1.4539
1.4462
1.4435
Aluminum grades:
We offer laser cutting services on ​​TRUMPF devices:
TRULASER 5030 fiber z Trudisk 6001 1500×3000
TRULASER 5030 fiber z Trudisk 8001 1500×3000
TRULASER 5060 o mocy 6kW 2000×6000
TRULASER 5060 o mocy 7kW 2000×6000
TRULASER 5060 fiber z Trudisk 10001 2500×6000
TRULASER 5040 fiber z Trudisk 5001 2000×4000
TRULASER 3060 fiber z Trudisk 4001 2500×6000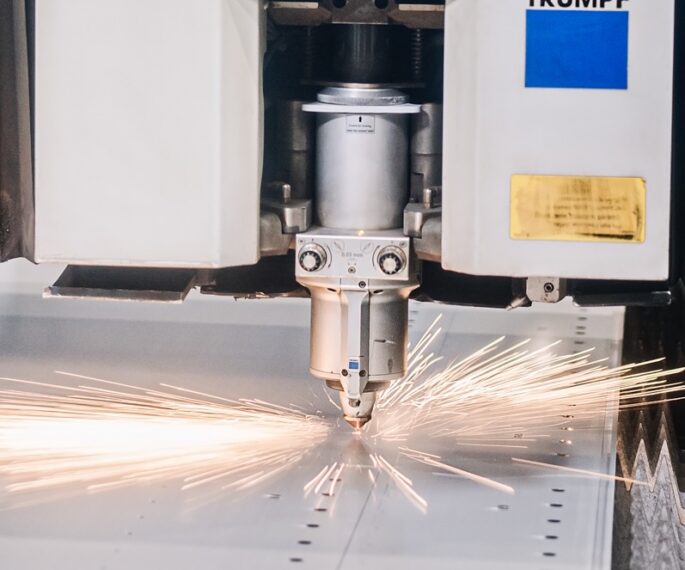 Laser cutting

BTH company