WATER JET CUTTING
Water jet cutting guarantees precision beyond compare. It allows creating thick sieves, for example for boilers. We recommend cutting with water to everyone looking for extremely precise steel cutting technology.
Cutting with water (cutting steel with a water jet) enables producing parts that are beyond the scope of other processing tools like plasma or laser.
STEEL CUTTING WITH WATER – TECHNOLOGY
Among our services you'll find high pressure water jet cutting as well as water cutting with the addition of a garnet. Garnet is an abrasive used in steel cutting as an additive to water. It enables to cut even thicker materials than with water only.
ADVANTAGES OF WATER CUTTING
Parts cut with water don't require further processing, such as milling or lathework. Water jet cutting makes the edge of the product completely smooth and clean.
BTH Import Stal uses Dynamic Waterjet system that helps to minimize the so-called cone effect – when cutting thick materials.
STEEL CUTTING – COMPETITIVE PRICES
Our steel cut pricing leave the competition behind. We have significantly reduced the cost of cutting with water thanks to the most advanced production lines. The technology we use works with the highest achievable pressure. This gives our customers precise and low cost implementation.
DEVICE TECHNICAL PARAMETERS:
Machine
FLOW MACH 4C z Hyperjet 6500bar
Work table
3000x6000mm
Cutting thickness
stainless steel
190mm
constructional steel
190mm
aluminum
190mm
copper, brass, bronze, titanium, rubber, composites, wood, plastic, cardboard, stone, marble, granite
on request
Thanks to the latest technology, we are able to reduce cutting cost when compared to others on the market. The waterjet cutting installation works under the highest pressure in the industry, leaving the competition behind.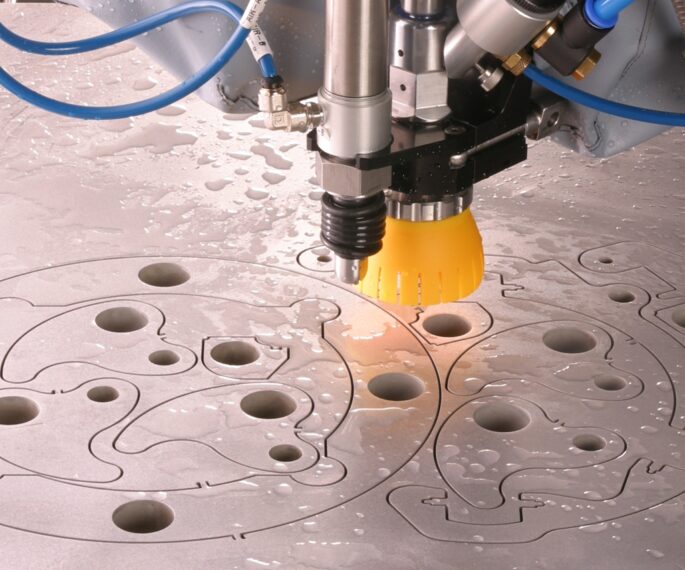 Water cutting

cutting steel with using water jet